The Magic Strings of Frankie Presto is a book that takes you on a roller coaster of emotions- you really have no idea where you might end up next- will you be chuckling to yourself because of a "cute quip" or will you be in a puddle of tears on the floor? Find out if I thought the roller coaster of emotions was worth the trip.
The Magic Strings of Frankie Presto 
Title: The Magic Strings of Frankie Presto
Author: Mitch Albom
Publisher: Harper (November 10, 2015)
Format: Paperback, 512 pages
Source: Received in exchange for an honest review from TLC Book Tours
Links:
Amazon | IndieBound | Barnes & Noble
Synopsis 
Mitch Albom creates his most unforgettable character—Frankie Presto, the greatest guitarist ever to walk the earth—in this magical novel about the power of talent to change our lives.
In Mitch Albom's epic new novel, the voice of Music narrates the tale of its most beloved disciple, Frankie Presto, a Spanish war orphan raised by a blind music teacher. At nine years old, Frankie is sent to America in the bottom of a boat. His only possession is an old guitar and six magical strings.
But Frankie's talent is touched by the gods, and it weaves him through the musical landscape of the twentieth century, from classical to jazz to rock and roll. Along the way, Frankie influences many artists: he translates for Django Reinhardt, advises Little Richard, backs up Elvis Presley, and counsels Hank Williams.
Frankie elevates to a rock star himself, yet his gift becomes his burden, as he realizes that he can actually affect people's futures: his guitar strings turn blue whenever a life is altered. Overwhelmed by life, loss, and this power, he disappears for years, only to reemerge in a spectacular and mysterious farewell.
With its Forrest Gump–like journey through the music world, The Magic Strings of Frankie Presto is a classic in the making. A lifelong musician himself, Mitch Albom delivers an unforgettable story. "Everyone joins a band in this life," he observes, be it through music, family, friends, or lovers. And those connections change the world.
About The Author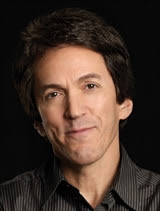 Mitch Albom is a bestselling novelist, a screen-writer, a playwright, and an award-winning journalist. He is the author of six consecutive number-one New York Times bestsellers and has sold more than thirty-four million copies of his books in forty-two languages worldwide. Tuesdays with Morrie, which spent four years atop the New York Times list, is the bestselling memoir of all time.
Albom has founded seven charities, including the first-ever full-time medical clinic for homeless children in America. He also operates an orphanage in Port-au-Prince, Haiti. He lives with his wife, Janine, in suburban Detroit.
Find out more about Mitch at his website, connect with him on Facebook, follow him on Twitter, and sign up for his newsletter.
My Review 
When I first read the synopsis for the new Mitch Albom book, The Magic Strings of Frankie Presto, I was very excited about having the opportunity to read and review the book. I am really glad that I was accepted for this tour- the book was a very good read. It had a little bit of everything- humour, sadness, love, longing, family, friendship. I thought that the book was really well written and the fact that it did have a little bit of everything really added to how amazing the book was. There were times when my heart was breaking, and I would continue reading and all of a sudden there would be something that would make me smile or make me laugh. Mitch Albom is a fantastic author since he is able to so easily combine sadness with humour.
The characters in this book are really well written and they make you fall in love with them from page one. You root for Frankie when you first meet him and hate it when something bad happens. I immediately wanted to protect Frankie as though he was my own child and I wanted to do everything for him to help guide him in life. The other individuals he meets- Baffa, El Maestro, Aurora, etc all play a significant role in his life, and each one helps to continue the story. Even the little hairless dog plays a significant role in the story- any book that has a little dog in it is a great book 😉
I thought that the layout of this book was very interesting. The narrator isn't a traditional narrator in that it isn't told from Frankie's perspective nor from another characters perspective. The story is told by music with inserts from some of Frankie's friends on the day of his funeral. I really enjoyed having the story be told by music, I think it added another dimension to the story that would have been missing had the story been told from Frankie's perspective or even from one of the secondary characters. In addition, music had a number of "cute quips" throughout the book which I enjoyed.
Overall, I really enjoyed the story and am happy I read it. As with the majority of Mitch Albom books, it teaches you a lesson without being "preachy". I highly recommend you pick this book up, it's a great read!
4 out of 5 hippos
Thank you to
for allowing me to participate in this tour.