If you need a book that is going to blow you away, then you have come to the right place…
Title: Lone Star
Author: Paullina Simons
Publisher: William Morrow Paperbacks
Format: Paperback, 576 pages
Source: Received from TLC Book Tours in exchange for an honest review
Purchase Links: Amazon | IndieBound | Barnes & Noble
Synopsis
Falling in love was the easy part . . .
Chloe and her three best friends are weeks away from finishing high school and beginning their new grown-up lives apart from one another. They have been friends since they were kids, their families and lives intertwined, but this is their last summer together. They plan a magical trip to sun-drenched Barcelona, with its possibility of adventure and passion. But first, Chloe has an old family promise to keep, and the four of them must detour through historic Eastern Europe.
In this fledgling post-Communist world, Chloe meets a mysterious American vagabond named Johnny, who carries a guitar, an easy smile, and a lifetime of secrets. From Treblinka to Trieste, from Carnikava to Krakow, the unlikely band of friends and mismatched lovers traverses the Old World on a train ride that becomes a treacherous journey into Europe's and Johnny's dark pasts—a journey that jeopardizes Chloe's plans and all she ever thought she wanted.
The ties that bind Chloe to her friends and her future are about to be put to the ultimate test. Whether or not they reach Barcelona . . . their lives will never be the same again.
A sweeping, beautiful tale of old friendships and new love that mesmerizes and enchants, Lone Star will linger long in the memory even after the final page has been turned.
About the Author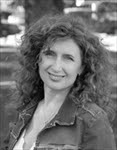 Paullina Simons is an internationally bestselling author whose novels include Bellagrand and The Bronze Horseman. She was born in Leningrad in 1963. As a child she immigrated to Queens, New York, and attended colleges in Long Island. Then she moved to England and attended Essex University, before returning to America. She lives in New York with her husband and children.
Find out more about Paullina at her website, follow her onTwitter, and connect with her on Facebook.
My Review
As always Paullina Simons does not disappoint- you will cry, you will laugh, you will question, and you will fall in love with the characters. The characters are awesome and you want to keep rooting for them. You want everything to turn out exactly how they want it, you feel as though they are your friends. Paullina really outdid herself on this novel, if you enjoyed The Bronze horseman, you will definitely love this book also.
I don't even know what else to say about this book except for READ IT! Paullina really outdid herself this time, and you definitely should pick up this book.
I give this book:
4.5 out of 5 hippos
Thank you to
for allowing me to participate on this tour.